Published by Greenwillow Books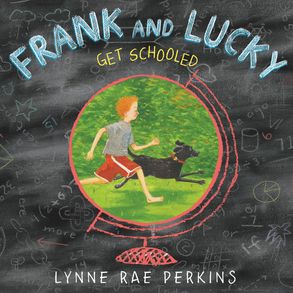 Summary:  A bad day for both Frank and Lucky leads them both to the animal shelter, where they meet for the first time.  Lucky is adopted by Frank's family, and the two of them are off to learn more about the world.  While Frank has to go to school a lot longer than Lucky's ten sessions, both of them learn about math, science, geography, art, and more by exploring the world together.  A run-in with a skunk provides some chemistry lessons, while a hike through the woods requires map-reading skills.  The concept of infinity is learned by exploring the amount of love between this boy and his dog.  32 pages; ages 4-8.
Pros:  Dog-lovers will enjoy celebrating all the reasons we love dogs.  Both the text and pictures are filled with humor and the joy that kids and dogs bring to our lives.  This would also make a great beginning-of-the-school year introduction to different subjects that are learned in school.
Cons:  Some of the more sly humor may be a bit over the heads of younger readers.