Published by Margaret Ferguson Books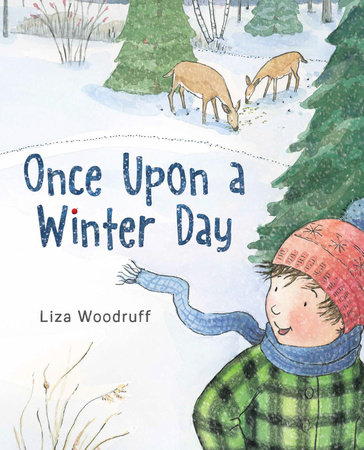 Summary:  Milo wants a story, but his mom is too busy.  "Why don't you go play in the snow?" she suggests.  Grumpily, Milo heads out the door and stomps away from the house.  Under the birdfeeder, he notices tiny footprints that he deduces belong to a mouse.  Did the mouse have a story to tell? he wonders.  Turn the page for a two-page spread showing a mouse eating the bird feed that's fallen in the snow.  Finding a feather in a tree has him imagining a flock of birds flying overhead.  Hemlock branches on the ground may have been caused by porcupines feeding in the tree.  Milo's imagination takes off until he's surprised to hear Mom calling him in for dinner.  When he gets inside, she offers to read him some stories after dinner, but he declines.  "This time," he replies.  "I have stories for you."  40 pages; ages 4-8.
Pros:  A great winter story which will encourage kids to sharpen their observation skills.  Since Milo notices clues on one page, and imagines the story on the next, this would make a fun participatory read-aloud, inviting kids to guess what happened before turning the page.  The illustrations are beautiful, and the animals are pictured and identified on both sets of endpapers.
Cons: I'm not sure a fish skeleton belongs at the dinner table.