Published by HarperCollins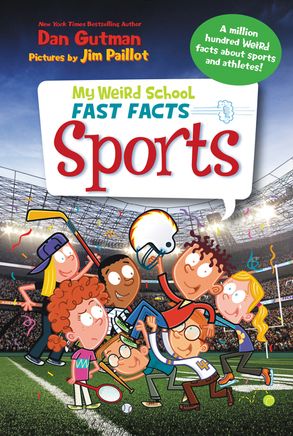 Summary: A.J. and Andrea, two of the wisecracking, squabbling kids from the My Weird School series, offer weird and interesting facts about a variety of sports. In addition to more well-known information, such as how different sports were invented, there are tidbits that will appeal specifically to elementary boys (some early hockey pucks were made of frozen cow poop) and some that are just bizarre (a hockey puck once hit a player in the chest, where he had a pack of matches, and his uniform caught on fire). Chapters include baseball, football, soccer, basketball, hockey, golf, car racing, the Olympics, and a couple chapters of miscellaneous facts. Includes lots of black-and-white illustrations by My Weird School illustrator Jim Paillot, as well as some photos. Look for a similar book with geography facts, and undoubtedly more on the way. 175 pages; grades 1-4.
Pros: Perfect for reluctant readers, this new series combines popular topics, interesting facts, and plenty of the humor that has made this series a favorite.
Cons: To my mind, the fast-fact format got a little old in the last few chapters. It wouldn't have been a great loss to edit out the miscellaneous stuff.