The Big Umbrella by Amy June Bates and Juniper Bates
Published by Simon and Schuster, 2018
This umbrella is big enough to cover everyone. A quick read, great illustrations, and a diverse cast of characters get the conversation on inclusion rolling. 40 pages; ages 4-8.
The Buddy Bench by Patty Brozo, illustrated by Mike Deas
Published by Tilbury House Publishers, 2019
What happens when kids are being left out at recess? This class has a solution: build a buddy bench. When you see someone sitting on the bench, you know they're looking for a friend. Includes information and additional resources about buddy benches. 36 pages; ages 4-8.
All of Us by Kathryn Erskine, illustrated by Alexander Boiger
Published by Philomel Books, 2021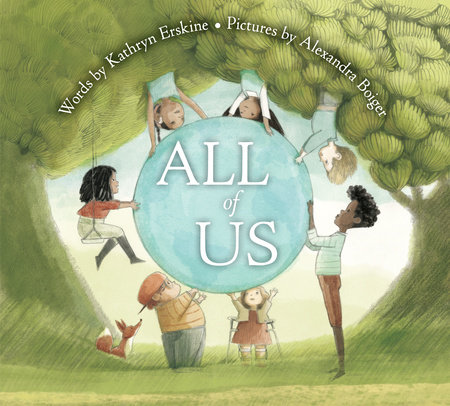 All kinds of kids are celebrated as they work and play together. A quick read that would be perfect for welcoming kids to a new group. 32 pages; ages 2-8.
Keeping the City Going by Brian Floca
Published by Atheneum, 2021
Delivery people, trash collectors, medical personnel, transit and construction workers: this book celebrates all those who kept things running when the rest of us were inside during the pandemic. 40 pages; ages 4-8.
The Cool Bean by Jory John, illustrated by Pete Oswald
Published by HarperCollins, 2019
In this school, the cool kids are also kind, and the bean who's been feeling kind of uncool appreciates it. 40 pages; ages 4-8.
The Many Colors of Harpreet Singh by Supriya Kelkar, illustrated by Alea Marley
Published by Sterling Children's Books, 2019
Harpreet dresses according to his moods, and a new school has him wearing white every day, trying to fade into the background. But a friendship helps him start dressing in all the colors of the rainbow again. Includes additional information about Sikhism. 32 pages; ages 3-8.
I Walk With Vanessa: A Story About a Simple Act of Kindness by Kerascoët
Published by Schwartz & Wade, 2018
The girl in this wordless story has to figure out what to do when she sees new girl Vanessa getting picked on. The whole school ends up coming together to put an end to the bullying. Based on a true story. Includes a message for kids about how to help someone who is being bullied and some helpful words for adults to use when talking about the book with children. A follow-up book I Forgive Alex (2022) focuses on forgiveness. 40 pages; ages 4-8.
Be Kind by Pat Zietlow Miller, illustrated by Jen Hill
Published by Roaring Brook Press, 2018
After her friendly overtures are rebuffed, a girl reflects on what it means to be kind. 32 pages; ages 3-8.
All Are Welcome by Alexandra Penfold, illustrated by Suzanne Kaufman
Published by Knopf Books for Young Readers, 2018
Rhyming text and busy illustrations show a diverse classroom of children and families coming together to form a community. 44 pages; ages 4-8.
Say Something! by Peter H. Reynolds
Published by Orchard Books, 2019
"Some people find it easier to say something than others. But everyone has something to say." Encourages extroverts and introverts alike to express themselves in a variety of ways. 40 pages; ages 4-9.
You Matter by Christian Robinson
Published by Atheneum Books for Young Readers, 2020
Even when you feel small, insignificant, or lost, you matter. A quick and reassuring read for every member of the group. 40 pages; ages 4-8.
Hurricane by John Rocco
Published by Little, Brown Books for Young Readers, 2021
After a hurricane, a boy tries to repair his favorite dock, but he can't do it alone. Just when he's ready to give up, his parents and neighbors show up and help rebuild it into a place for the whole community. 48 pages; ages 4-8.
Jenny Mei Is Sad by Tracy Subisak
Published by Little, Brown Books for Young Readers, 2021
Sometimes Jenny Mei seems happy. Other times she seems angry. But her friend knows she is sad, and that being sad is hard. Having a good friend can help. 40 pages; ages 4-8.
Our LIttle Kitchen by Jillian Tamaki
Published by Harry N. Abrams, 2020
There's plenty of cheerful energy in this rhyming story about a group of volunteers that meets each week to prepare a community dinner. Includes recipes for vegetable soup and apple crumble. 48 pages; ages 4-8.
Luli and the Language of Tea by Andrea Wang, illustrated by Hyewon Yum
Published by Neal Porter Books, 2022
While their parents attend ESL classes, a group of kids hang out in the playroom next door. Luli wants to bring them together, so she serves a treat that is universal: tea and cookies. 40 pages; ages 3-7.
The Day You Begin by Jacqueline Woodson, illustrated by Rafael López
Published by Nancy Paulsen Books, 2018
Four kids feel a little strange on the first day of school, but as time goes on, they start to connect and feel okay about what makes them unique. 32 pages; grades 1-4.