Published by Charlesbridge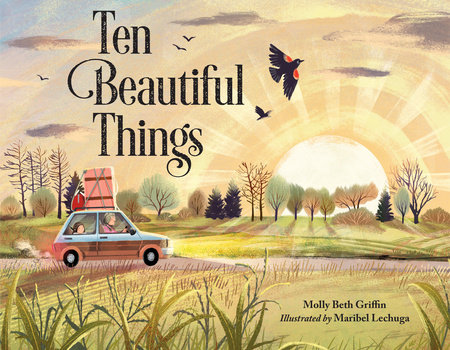 Summary: Lily's in the back seat of Gram's car, heading toward her new home: Gram's Iowa farm. To distract Lily from her sadness, Gram suggests they find ten beautiful things before they get to the house. "There's nothing beautiful here," says Lily, but at that moment, there's a breathtaking sunrise. Every time she starts to descend back into her sadness, there's something beautiful to see: a wind farm, a red-winged blackbird, a gurgling creek. Finally they pull up at Gram's farmhouse. "We only made it to nine," says Lily. But Gram reaches down for a hug. "We're ten," she says. "None of this was easy. Maybe it would never be easy. But she belonged with Gram now. She belonged here now." 32 pages; ages 4-8.
Pros: While the reader never finds out why Lily is going to live with Gram, it's clear there's a lot of grief behind the reason, and Gram is wise to start the hunt for beauty. The illustrations of the sunrise and thunderstorm are pretty spectacular.
Cons: Some kids may feel dissatisfied not to know more about Lily; on the other hand, there are many groups of kids who will connect with her situation, so the vagueness may be a good thing.