Published by Holiday House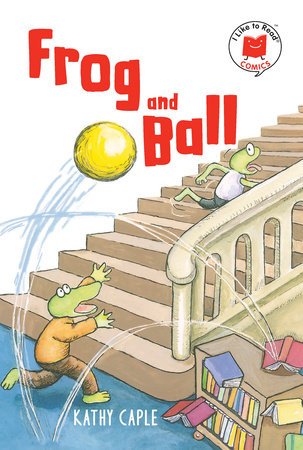 Summary: In Frog and Ball, Frog checks out a book about magic from the library. On the way home, he comes across a deflated ball, and decides to try out the book to bring the ball back to life. His magic works a little too well when the ball really does come to life and starts chasing him all over town, including a chaotic return to the library. Frog finally manages to subdue the ball back into deflated submission, but when Rabbit comes along, it looks like things are going to start up again.
A family of cats has big cooking plans in Spring Cakes, but first they have to gather the ingredients: flour, honey, eggs, strawberries, and some magic roses. Each item requires going to the source, so the kitties get a series of adventures, including a visit to the witch who has the roses. Finally, it's time to bake, and everyone who helped out gets to enjoy a picnic with some spring cakes. Both books are 40 pages; ages 4-8.
Pros:  I've long been a fan of the I Like to Read books, and was excited to hear that there was a new comic series (and grateful to Holiday House for the free copies!).  These are sure to be a hit with kids learning to read: the comic format is, of course, hugely popular and the stories are well-crafted with cute illustrations.
Cons:  One of the things I love about the I Like to Read series is that it includes books that look like "real books" (not like early readers) that are written at the earliest Fountas and Pinnell levels (A, B, C).  These comic books are at a higher F&P level (Frog and Ball is I and Spring Cakes is L).  I'm hoping Holiday House will come out with some that are for those earlier levels.