Published by Groundwood Books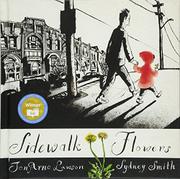 Summary:  In this wordless picture book, a little girl in a red coat is walking home from the grocery store with her busy, distracted (think cell phone) father.  As they walk, she finds flowers growing in sidewalk cracks.  Their trip through the city is drab and gray, with her coat and the flowers the only bits of color.  Halfway through, they enter a park, and she starts leaving the flowers as gifts—on a dead bird, with a man sleeping on a bench, tucked into a dog's collar.  Arriving home, she distributes the rest to her family. As soon as she starts giving away the flowers, the pictures become filled with color.  On the last page, she tucks one final flower behind her ear as she watches a flock of birds overhead.
Pros:  More and more, I love wordless books.  This one has so much to look at, with multiple panels on many of the pages.  The message is simple but beautiful.
Cons:  I felt like there was some greater significance to the last page that I didn't quite get.