Published by Greenwillow Books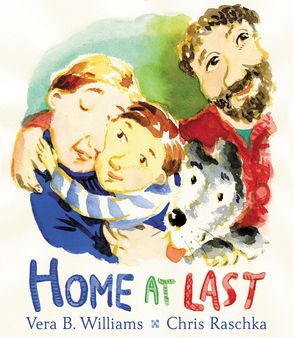 Summary:  Lester is finally going home with his new parents, Daddy Albert and Daddy Rich, after waiting a year for his adoption to become final.  Even though he's spent a lot of time with his two dads and their dog Wincka, it still feels weird to him to be in a new home.  Although his parents encourage him to unpack, he insists on keeping his suitcase full of action figures right next to his bed in case he needs their protection.  And every night, he goes into his parents' bedroom and stands at the foot of the bed until they wake up and take him back to his own bed.  This becomes more and more of a problem for everyone, until finally Wincka figures out what to do.  After many years of sleeping at the foot of Albert and Rich's bed, he realizes he has a new job, and moves in with Lester.  This gives Lester the security he's been looking for, and at last he is ready to begin his new life.  40 pages; ages 4-8.
Pros:  A moving story of love and family, written by Caldecott honoree Vera B. Williams, and illustrated by Caldecott medalist Chris Raschka.  Raschka has included a note at the end on how he and Williams worked together to create this final book before Williams' death last October.
Cons:  Due to its length and somewhat rambling nature, it's a story best suited for one-on-one sharing.