Published by Sleeping Bear Press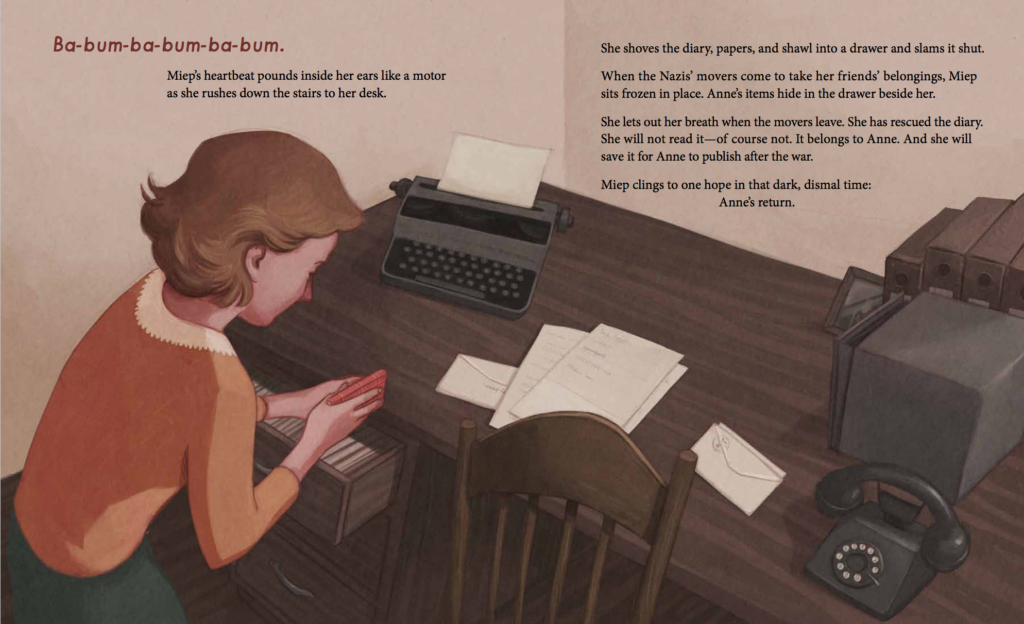 Summary:  Beginning on August 4, 1944, when the eight occupants of the Secret Annex under Miep Gies's care were arrested and taken away, the narrative follows Miep's story of how she saved Anne Frank's diary.  Facing arrest for keeping any of the group's belongings from the Nazis, Miep snuck back into the annex before their return, taking Anne's diary and a combing shawl with some of Anne's hair still on it. She kept these, hoping that Anne would return one day to claim them, but it was only Anne's father, Otto Frank, who survived.  After he received the devastating news of his daughters' deaths, Miep gave him Anne's things. Even after the diary was published, it was many years before Miep could bring herself to read it. Reading it in one sitting at last, she felt a measure of peace, knowing that Anne would live on, thanks to her efforts. Includes an author's note and a timeline of Miep's life.  40 pages; grades 2-6.   
Pros:  Even with so many books about Anne Frank, this one is unique for its perspective from Miep's point of view.  Her courage in standing up to the Nazis on numerous occasions is inspiring, as is her role in preserving Anne's words.
Cons:  The illustrations were just okay.