Published by Little, Brown Books for Young Readers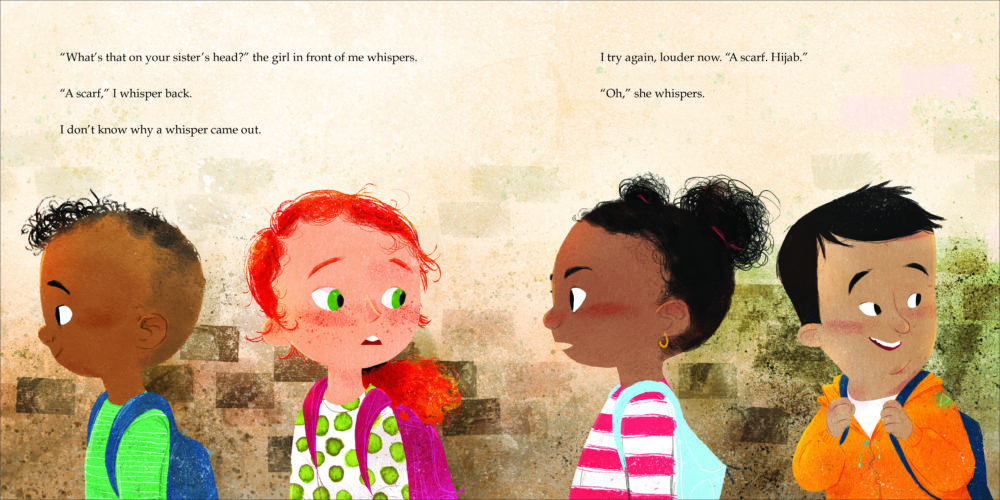 Summary: Faizah is excited about her first day of school. She has a new backpack and light-up shoes. But most exciting of all is that her older sister Asiya is starting sixth grade and wearing hijab for the first time. Her scarf is blue, just like the sky and ocean. When the girls get to school, they go their separate ways, but Asiya is on Faizah's mind throughout the day. She draws a picture of two girls in hijab having a picnic. Later, she sees her sister on the playground at recess and hears a boy say, "I'm going to pull that tablecloth off your head." Asiyah runs off with her friends, and Faizah remembers their mother's advice, "Don't carry around the hurtful words that others say. Drop them. They are not yours to keep. They belong only to those who said them." At the end of the day, the two sisters walk home hand in hand. Includes author's notes about her own experiences that inspired this story with characters named for two of her sisters. 40 pages; ages 4-8.
Pros: This beautifully illustrated story celebrates wearing hijab while at the same time showing the reality that girls face when they make this transition. Readers interested in learning more about Ibtihaj Muhammad can read her excellent memoir Proud: Living My American Dream.
Cons: There's always that one bully.