Published by Knopf Books for Young Readers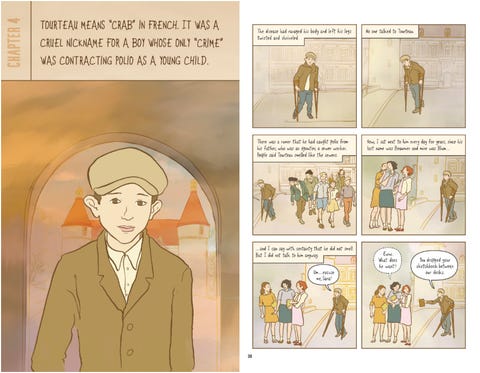 Summary:  Julian (from Wonder) wants to interview his grandmother about her childhood in France during World War II.  She tells the story of growing up Jewish in occupied France. One day, Nazi soldiers came to round up all the Jewish children at her school.  She managed to hide, and was rescued by a boy named Julien. Julien was crippled from polio, and Sara and her classmates had always shunned him.  But he takes her to his family's barn, where she hides for the next year, helped by his whole family. The two become close friends, and just as it looks like a romance is beginning, everything falls apart.  Julien is arrested by the Nazis, and Sara is discovered by the neighbors, whom Julien's parents believe are German informants. Sara concludes by remembering Julien's kindness, which she memorialized when naming her son, whose name has been passed to her grandson.  224 pages; grades 5-8.
Pros:  Another engaging Wonder story, this one in graphic novel format, that celebrates kindness.  There are enough deaths and disturbing details about World War II to make this more of a middle school book, but those who loved Wonder will not be disappointed by this latest entry.
Cons:  This book has an odd binding that does not look it will hold up well in a library.  Apparently the "Wonder Story" sticker on the cover is reason enough to charge $24.99 for this title, but as a librarian, I don't appreciate this combination of high price and fragile binding.