Published by Neal Porter Books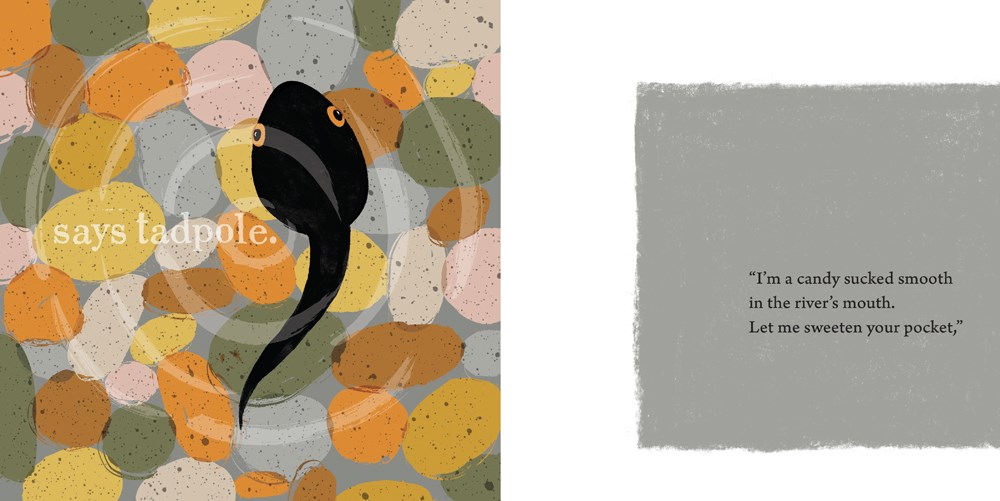 Summary: "Morning lays me on your pillow,/an invitation, square and warm./Come out and play!" So begins the day for the girl shown in the book. Turn the page and you'll see this poem was said by the sunlight. On the facing page is another poem. Each spread has this format: the answer to the previous poem and another riddle. The speakers are animals (a snail, a tadpole); things (a pebble, mud), and weather (clouds, thunder). Day turns into night, and the final voice speaks: "I am the engine/of the summer dark./Sleep, while I thrum/in your tomorrow." It's a cricket…and a green new day. 40 pages; grades K-4.
Pros: This book has been on my radar for months now, and I am delighted to have finally seen it. It's deceptively small and simple, but, like many of Antoinette Portis's books, makes you want to slow down and notice all the little miracles in nature. Both the poems and the illustrations are beautifully crafted, and can be enjoyed by a wide range of ages. Portis won a Sibert honor last year for Hey, Water!. Maybe one of these years she will receive a well-deserved Caldecott.
Cons: At first I thought this might be a fun book to have kids guess who was saying each poem, but I think some would be too tricky for younger kids (they were too tricky for me).