Published by Philomel Books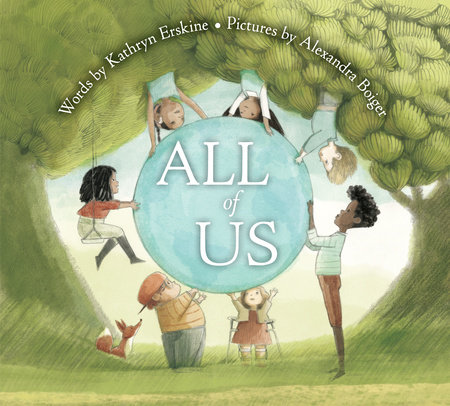 Summary:  "Me…can be we. You…can come, too. They…can be 'Hey!' It's all of us."  This affirming book shows kids of different races and with a variety of physical attributes all playing together.  From hopscotch with the names of the continents in the boxes to sailing on a sea of words in various languages, differences and similarities are embraced and celebrated.  Religious practices and a variety of vocations are also touched upon.  The text circles back at the end: "All kinds of kids, thoughtful and free.  Sometimes in groups, sometimes…just me."  32 pages; ages 2-8.
Pros:  An affirming book that celebrates all kinds of kids through both text and pictures.  It's a quick read, but could engender longer discussions, and would make a good welcoming book at the beginning of any sort of kids' gathering.
Cons: Far be it from me to utter a disparaging word about such a rosy view of the world.