Published by Philomel Books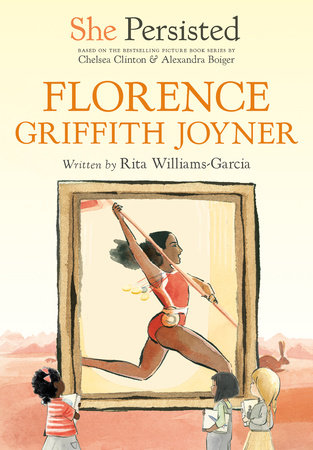 Summary: This short chapter book is part of the series inspired by Chelsea Clinton's She Persisted books. Persistence is definitely a theme, as the story follows Florence from her childhood, growing up in a large family to college, to her struggles to pay her way through college, to her determination to become the world's fastest woman. Despite challenges and setbacks, she finally emerged victorious in the 1988 Summer Olympics, where she won three gold medals and one silver. She was also well-known for her distinctive fashion designs that she wore on the track. Sadly, the book ends with Flo-Jo's death in 1998 at the age of 38 from an epileptic seizure in her sleep. Includes a list of 8 ways you can persist and references. 80 pages; grades 2-5.
Pros: Normally, I'm not a fan of celebrity-authored children's literature, so I've pretty much steered clear of Chelsea Clinton's books. But when I saw the award-winning authors writing these biographies, I finally broke down and read one. It's very well done, with plenty of information for both research and inspiration. The length and illustrations make it an accessible choice for younger elementary kids, and I plan to add many of these books to my library.
Cons: I'm not sure I knew about Florence Griffith Joyner's death, but if I did I had forgotten and was shocked when I got to that part of the book.