Published by Graphix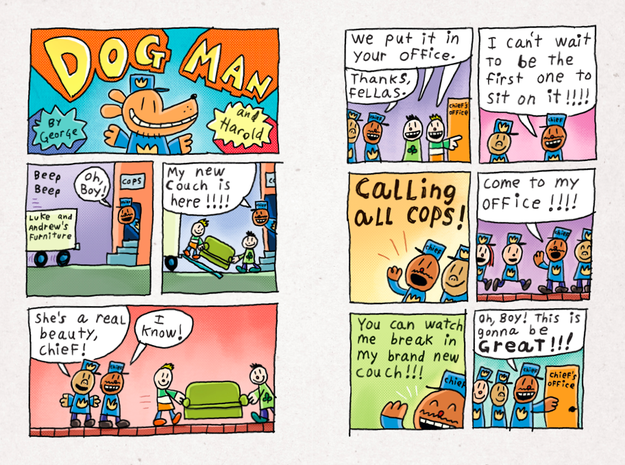 Summary:  George and Harold, creators of Captain Underpants, revisit a character they came up with in first grade.  Police officer Knight has a strong body but a weak brain; his canine companion Greg has a brilliant mind, but isn't very big or powerful.  An accident results in Greg's head being stitched on to Officer Knight's body, creating superhero Dog Man.  Dog Man has four adventures in this comic book, all of them involving his nemesis, Petey the Cat.  The pictures and text channel a talented first grader, complete with occasional crossed-out words and grammatical errors.  "Extra cheesy Flip-o-ramas" are inserted throughout the text to create some "animation".  The last few pages have instructions on how to draw some of the characters, and there is a preview of Dog Man 2: Unleashed, available January 2017.  240 pages; grades 2-4.
Pros:  Once again, Dav Pilkey has his finger firmly on the pulse of an 8-year-old.  Reluctant readers everywhere, as well as non-reluctant ones, will enthusiastically embrace Dog Man and his adventures.
Cons:  I fear that by reviewing Inspector Flytrap and Dog Man in the same week, I may have irrevocably labeled myself "literary lightweight".