Published by Scholastic Press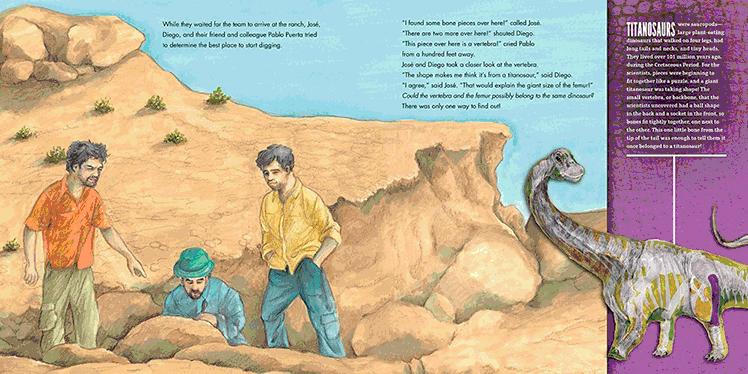 Summary:  When an Argentinian gaucho told museum staff that he had found a dinosaur bone much larger than the one they had on display, paleontologists Jose Luis Carballido and Diego Pol wanted to investigate.  They visited the ranch and found out the gaucho was right–he had discovered a dinosaur bone bigger than any previously discovered. The two paleontologists assembled a team and began excavating the fossils.  They eventually were able to estimate the size of the dinosaur, which would have weighed in at seventy tons. Over 100 bones were found, belonging to several dinosaurs.  The team had to work around the clock to uncover them all before cold weather set in, which could damage the fossils. When the titanosaur's skeleton was finally assembled, it was 122 feet long and almost 26.5 feet tall, making it the largest ever found…for now.  40 pages; grades 1-4.
Pros:  Dinosaur enthusiasts will be blown away by this gigantic dinosaur, and the work it took to dig up and assemble.  The illustrations and photographs add a lot of information, and make a paleontology career look like a very fun adventure.
Cons:  Some back matter would have added a lot; for instance, I couldn't find any dates for when the expedition took place or the name of the museum where the skeleton is now on display.