Published by Holiday House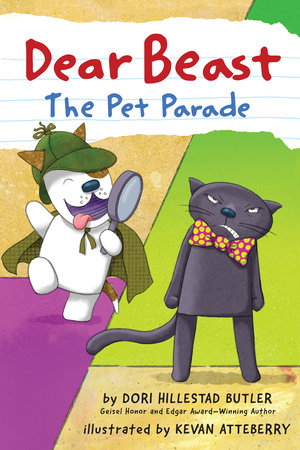 Summary: Simon the cat has heard that Baxter the dog is going to be marching in the pet parade with their boy, Andy. Simon has been in this parade with Andy in years past, and writes a letter to Baxter trying to convince him to back out. Baxter refuses, and Simon launches a spy mission to determine what their costumes are going to be, enlisting the help of a skunk, a snail, a crow, a squirrel, and the pet goldfish, Gradually, Simon comes to understand that he and Baxter have different roles in Andy's life, and that Baxter might actually be the better choice for the parade. The parade concludes happily, and it looks like book 3 of this series is in the works. Includes a "Doggy Dictionary" to help decipher Baxter's misspelled words. 96 pages; grades 1-3.
Pros: Butler has come up with a winning idea to tell an entire story through animals' letters. Early chapter books readers will find the format appealing, the writing humorous, and the colorful cartoon-style illustrations helpful in figuring out what's going on in the story.
Cons: Thank you to Holiday House for sending me this advance copy, but I wish I had read book 1 first, since I wasn't completely able to figure out Andy's, Simon's, and Baxter's situation from this book. This seems like a weakness since kids don't always read books in order. Also, some may object to Baxter's frequent misspellings which may cause some struggles for beginning readers.