Published by Holiday House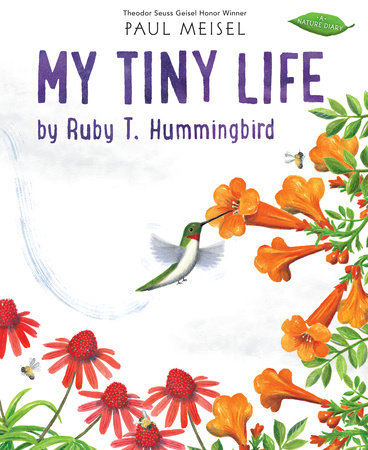 Summary:  A ruby throated hummingbird narrates a year in his life, starting on May 15 when he hatches out of an egg.  A few weeks later, he's ready to fly, and spends the summer sipping nectar and fighting/playing with the other hummingbirds.  August 22: "I'm hearing a lot of chatter about a big trip soon."  In September, he heads to Mexico, where he stays until the end of February.  By May 4, he's back home again, and thinking about finding a mate.  Includes additional information about hummingbirds on both the front and back endpapers, as well as a glossary and a list of sources and recommended reading.  40 pages; ages 4-9.
Pros: Paul Meisel and Holiday House have teamed up for a number of I Like to Read books, and this series feels like it could appeal to the same audience. There's just a sentence or two of text on each page, and the diary format makes it engaging and fun. Yet there's plenty of back matter that could make this a great research resource for older kids. There are three other books in this series, which started in 2018.
Cons:  As you may recall, I'm not a big fan of using the endpapers for additional information.  Fortunately, the book I got from the library didn't have a dust jacket, so nothing was covered up.