Published by Calkins Creek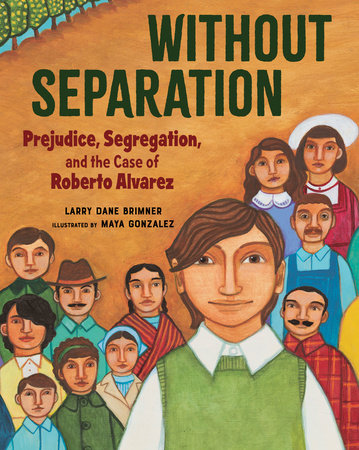 Summary:  When Roberto Alvarerez returned to school from Christmas vacation on January 5, 1931, he was told he was no longer a student at the Lemon Grove Grammar School in Lemon Grove, California.  He and the other Mexican American children were supposed to go to the new Olive Street School.  Most of the kids headed home, as they had been instructed to do by their parents when rumors of the new school started to make their rounds in the neighborhood.  Families filed a lawsuit with Roberto's name on it against the Lemon Grove School District.  On March 12, a judge ruled that there could be no separate school for Mexican children, and the students were allowed to return to Lemon Grove.  Includes a six-page author's note with additional information and photos; and sources and source notes.  40 pages; grades 2-5.
Pros: This straightforward picture book tells a story of standing up to school segregation that happened years before Brown vs. Board of Education. While the story and folk art style illustrations could be understood and appreciated by a second-grader, there's enough information in the author's note to get a good start on a middle school project.
Cons: 90 years later, de facto school segregation is still prevalent all over the United States.