Published by Anne Schwartz Books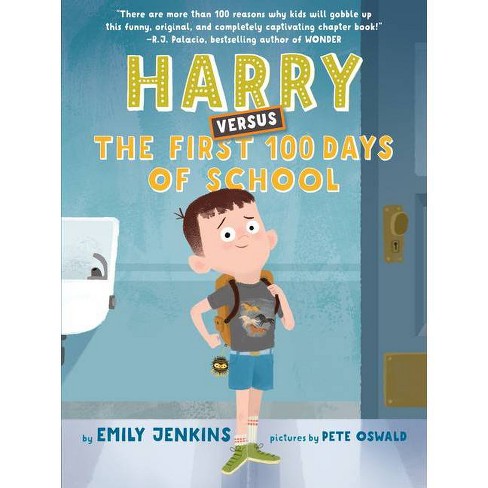 Summary: Harry is super nervous on his first day of first grade: he worries about his too-short haircut, having a guinea pig in the classroom, strict teachers, and making friends. As the story unfolds day by day, Harry learns to overcome all of these concerns. His teacher is strict, but kind, gently guiding Harry to do the right thing. His older sister introduces him to her class's guinea pig, and he learns that they aren't scary after all, but pretty adorable. He meets Mason, who becomes his best friend. And he learns to stand up to the class bully, who eventually turns out to be a friend as well. By day 100, Harry considers himself a first grade expert, with these words of wisdom: "Try to make new friends. Keep reading even when the words are hard. Speak up when something's wrong. And help when someone's sad." 240 pages, grades K-3.
Pros: I zipped through the first half of this book in one evening, then held off on the rest so I could savor it later. It's such a realistic look at what first grade is like, and Harry is an imperfectly perfect narrator (he gets in trouble for talking, pukes all over his desk, and isn't always nice to the other kids at his table). There's plenty of classroom diversity, and lessons about Columbus Day and Thanksgiving that are a bit different than what I remember from first grade but well-delivered by his compassionate teacher. Pete Oswald's illustrations add plenty of humor. This would be a perfect first-grade read-aloud, and I hope it captures the attention of the Newbery committee.
Cons:  I would have liked a little more background on Harry's guinea pig phobia.