Published by Neal Porter Books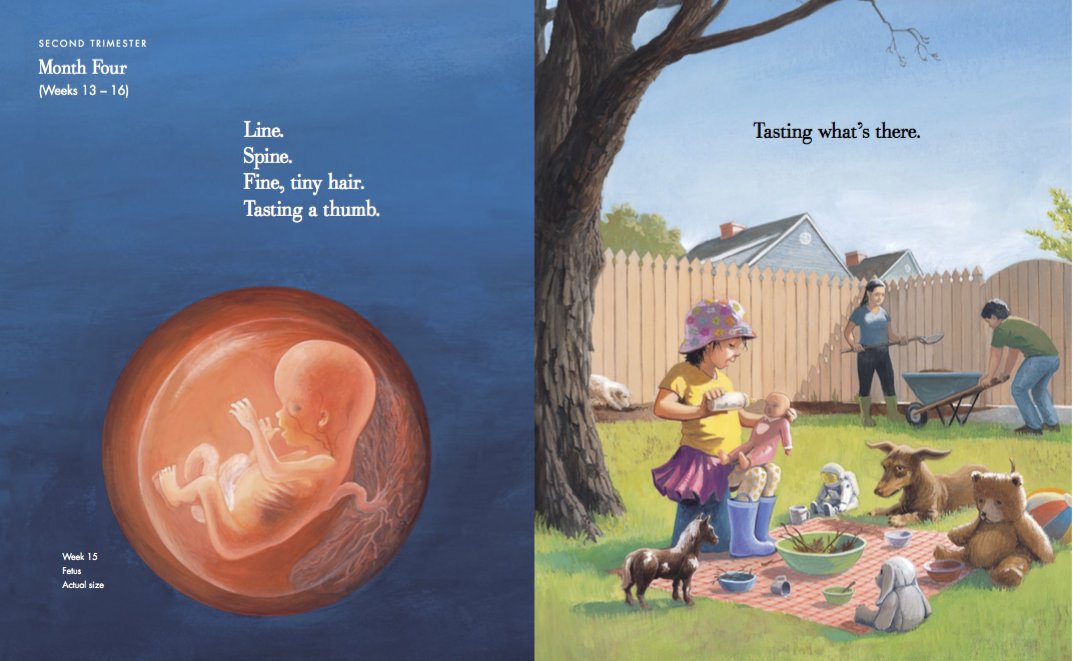 Summary:  On the right-hand pages of this book a family of a mother, father, and little girl prepare for a new baby.  The seasons change from winter to spring to summer to fall, as Mom's belly slowly gets bigger. The left-hand pages show what's going on with the new baby, starting from a fertilized egg and going all the way to the new baby in the hospital.  The big sister is part of the process, reading books about new babies, practicing giving a doll a bottle, watching the screen at the ultrasound, feeling the baby's kicks, and finally, meeting her new little sister in the hospital. Includes more information on a baby's development; the gestation periods of different animals; and some answers to what if questions that include information on twins, premature births, and miscarriages. 32 pages; ages 4-8.
Pros:  What an amazing resource for families expecting a new baby!  The simple rhyming text would make a quick read to a preschooler, but he or she will want to spend lots of time on Jason Chin's awesome illustrations, many of which show the actual size of the developing fetus.  There's just enough information for young kids without getting into too much birds-and-bees stuff.
Cons:  The whole process looks so easy, and the little girl seems 100% thrilled to be getting a younger sibling, which may not be entirely realistic.