Published by Walker Books/Candlewick (released September 1)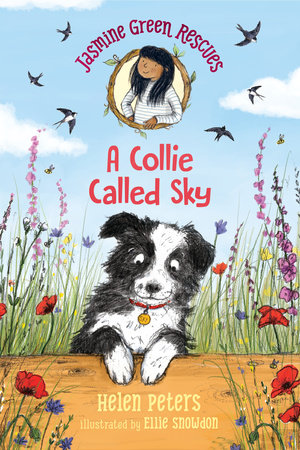 Summary:  Jasmine loves animals and seems to have a penchant for rescuing them (the pig and duck that she rescued in books 1 and 2 are introduced in the first chapter).  When she finds a half-starved puppy in a hedge, she immediately goes into action to save him, calling her mother at her veterinary office to order an IV and special dog food.  Mom predictably warns Jasmine not to get too attached, but we all know how that goes, and Jasmine proves herself to be an excellent vet's assistant and dog trainer.  She names the puppy Sky and teaches him all sorts of commands, including how to find her and her friend Tom.  This proves critical when Jasmine gets hurt far from home, and must depend on Sky to get her help.  When the previous owner is found, it looks like Jasmine will have to give Sky back, but don't worry, there's a happy ending for all.  My advance copy had a note reading, "Final book will contain bonus material"; I'm hoping that means some pet care tips at the end. 160 pages; grades 2-4.
Pros:  Originally published in the UK, this series will appeal to animal lovers who are ready to move to slightly longer, but still illustrated, chapter books.  As per usual these days, I couldn't get book 1 (which is already available; the pages shown above are from that book), so I had to start with book 3, but I found it an engaging read, with Jasmine a strong and likeable heroine.  There are also plenty of tips woven into the story on what it takes to be a good owner, and some subtle warnings to not take on the responsibility of dog ownership unless you're ready for a 15-year commitment.
Cons:  Sky is referred to interchangeably as a collie and a border collie, and there seems to be a significant difference between the two breeds.  Based on context clues and the illustrations, I'm going to go with border collie.
To pre-order this book from Amazon, click here.  To order book 1, click here.