Published by Holiday House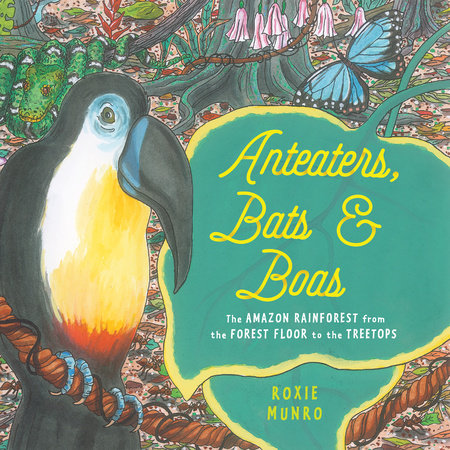 Summary:  Thirty animals from the rainforest are profiled, beginning with an introduction that tells readers a little bit about rainforests, specifically the Amazon, where the animals in the book live.  From there, the two-page spreads show two or three animals with a paragraph of facts about each one.  The animals are pictured in their natural habitats and shown in proportion to each other.  A final spread includes black-and-white outlines of all the animals with a color-coded list that categorizes them by class.  There's also information on the layers of the rainforests and rainforest preservation, as well as a glossary, index, and list of additional information sources.  32 pages; grades 2-5.
Pros:  The large, full-color illustrations really make this book, which also includes interesting tidbits of information about each animal, and excellent backmatter which can lead readers to further research.
Cons:  It's a beautiful and interesting catalog of animals, but kids will have to look elsewhere for more comprehensive information about the rainforest.